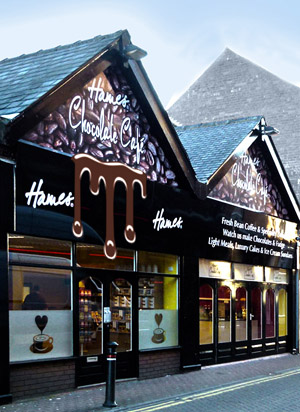 Hames Chocolates are a family firm.
Edward and Marlene Hames started in business as Caterers back in the 1970's and over the years the business evolved into Retail then Manufacturing of Chocolates and Sweets.
The business is now run by Edward & Marlenes daughter Carol, this next generation has evolved the business even further. The Skegness based firm now has two factories, one making Rock and Hard candy and the other a Chocolate Factory. Plans are a foot to expand the Chocolate Factory twice it's current size. Most recently, they've opened a Chocolate Cafe which is a complete Chocolate Experience.
Hames Chocolate Cafe offers the opportunity to learn how to make chocolates in The Chocolate Kitchen, you can book a Chocolate Workshop, a Chocolate Hen Party, a Chocolate Birthday Party, you can watch chocolates & fudges being made while relaxing in comfortable surroundings and sipping one of Hames Chocolates Speciliaty Drinks. Of course there is also a Gift Shop where you can purchase your favourite chocolates.